UNIQUO: Enforcing High-Quality Safety Audits & Training through Regulatory Competence & Skilled Workforce

The engineering industry has witnessed vast potential, productivity and efficiency over the years; thanks to digitization, innovative technologies and new construction techniques. Amidst this progression, safety auditing & training also underwent standardization and remains a key mandate for project consistency and success. Every safety audit requires comprehensive, clear approach, extensive training and flawless execution, providing which is Mumbai-based UNIQUO. Having complete insights of global safety standards, government regulations and local statutory norms, it renders expert stratagem for inspection, testing, certification, technical & management consultancy, and varied engineering services.

Founded by Anupam Shukla (Director) in 2013, UNIQUO excels in offering specialized services inclusive of third-party inspection, safety audits, safety training and covers all facets of onsite safety, right from implementation, legalities to management and human safety. The company has approval from Government of Maharashtra & Gujarat for rendering workforce training at different levels and has proven competency in safety auditing & consulting under Factory Act in Maharashtra & Gujarat.

When many in business fail gaining key insights on local standards and government statutory norms, this Mumbai-based safety consultant takes an edge over by offering regulatory-compliant services with utmost competency. "We have positioned ourselves at a stature where we are aware of local body rules and regulations with complete understanding of global safety standards," affirms Anupam.

Safety in Safer hands

UNIQUO's suite of services caters to both construction and industrial (SMEs &corporates) segment. Since the former is an unorganized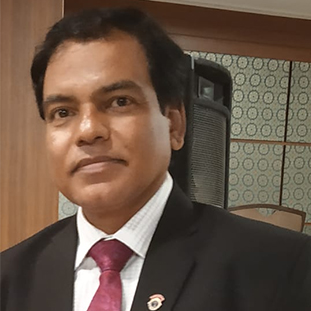 UNIQUO takes a quantum leap from conventional system and handhold its clients on all walks of implementation by delivering optimal services for easy adoption of practices
sector and demands application of skill and competency, the company provides substantial assistance by identifying safety standards and implementing norms at respective sites. Simultaneously, it delivers safety training to onsite manpower to achieve the overall safety objective. The latter, however, are given support to acquire cognizance of global safety standards and upgrade their operations accordingly.
Adding an extra star of excellence to UNIQUO's uniqueness is its partnership with NABL accredited lab that allows room for onsite material testing and meets all quality norms as per international standards, thus delivering cutting-edge, quality services and keeping customer experience at forefront. Also, it is mandatory for factories to undertake fire safety audits yearly under the Factory Act providing which are UNIQUO's approved fire safety auditors who go to the site, check the area and offer right kind of solution to factories.
Since technology adoption at advanced level requires change in mindset, UNIQUO takes a quantum leap from conventional system and handhold its clients on all walks of implementation by delivering optimal services for easy adoption of practices. On the flip side, it leverages automated machinery for flawless testing and accurate, precise data recording, hence less manipulation possibilities with no manual interference.

Skilled Auditors, Reliable Prospects

UNIQUO leaves no talent unskilled and provides in-house scheduled training for continual skill set upgradation under several modules. While inspection engineers undergo customized training programs, lab technicians avail rigorous training for testing and equipment calibration. Meanwhile, auditors are bound to achieve hands-on experience through extensive training before commencing customized audits.

Recording an annual revenue growth in double the cent percentage, UNIQUO is working for metro projects in Pune, Nagpur, Ahmedabad & Mumbai, and in real estate for reputed clients, including Tata Projects, Tata Housing, Larsen & Toubro, and Reliance. The company is determined to escalate its growth graph by executing additional audit services and customized audits for multiple corporate clients. With expansion plans in pipeline, UNIQUO is heading towards metropolis in South India (Hyderabad, Chennai & Bengaluru) and envisages starting operations in the Middle-East (Kuwait & Dubai) and Bangladesh (Dhaka metro project) as well.